While you can wait to add many pool enhancements at a later date, there are a few considerations you really need to solidify before your swimming pool is installed. One of them is the floor or finish type. In our previous post, we looked at both state-of-the-art movable flooring as well as the general tile options on the market. Today, we'll look at how you can further customize a tile floor with mosaics as well as the possibilities inherent in an aggregate finish.
One-of-a-Kind Pool Floor Mosaics
Able to be created from a variety of tile types, you can up the ante when it comes to your tiled swimming pool floor by having those tiles arranged into a mosaic! Many design ideas are available in the 18 collections from AquaBlu Mosaics, which also offers you the choice of grout types and colors as well as custom design possibilities. Aquablu also includes high-end material options such as handmade porcelain and Venetian glass.
One caution when it comes to mosaics is to avoid completely personalized designs such as monograms, which may reduce the salability of your home, should you decide to sell; however, if you live on a family estate or are certain that this is your forever home, feel free to personalize your pool in any way you like.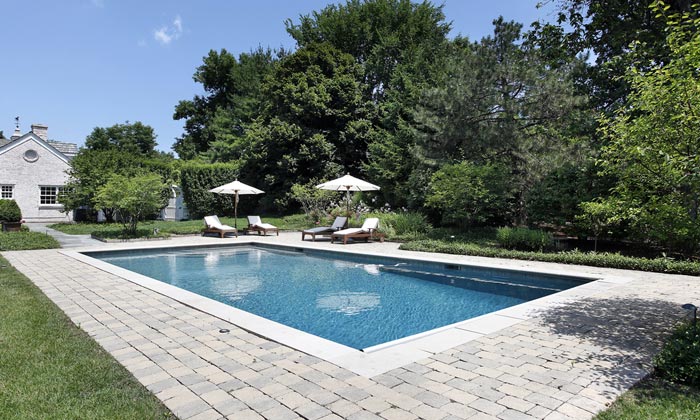 Aggregate Pool Finishes
Durable and natural-looking, an aggregate pool finish can offer the appearance of a natural body of water or a fantasy-inspired utopia. An aggregate finish will incorporate items such as glass beads, pebbles, or stones into the pool plaster, resulting in both resilience and added aesthetic appeal. Uniquely resistant to pool chemical imbalances, aggregate finishes tend to have greater longevity than many other surface options.
The organic appeal might be just perfect for the look you're after as well as the most suitable option, depending on the setting of your home and yard. Manufactured by companies such as PebbleTechnology®, pools with aggregate finishes have stain-resistant, textured surfaces that appear earthy while remaining low-maintenance and offering slip-resistant surfaces on which to walk.
PebbleTec allows you to choose water enhancements, such as their popular "Shimmering Sea" created by use of pearl shells. You can also choose from a variety of water color options to create your ideal setting. If your imagination needs a little nudge, you can start by flipping through this gallery of luxury-level pools across the globe. Aggregate pool surfaces can also come in a variety of aesthetics, ranging from jewelscapes to quartzscapes.
If you're still not sure what kind of pool floor or finish is right for you, visiting your local pool store and asking to see samples of various surfaces might help you decide. Talking with a local contractor about the best options for your area and comparing the pricing to your budget can also help you make your decision.
Read More About Pools
• Recipes for the Best July 4th Party Ever!
• Top 5 Safety Tips for Swimming
Lyon Financial
Since 1979 Lyon Financial has made the backyard resort dream come true for over 500,000 families across the U.S. Through our solid relationships with more than 3,000 pool contractors and our continued commitment to putting our clients first, we have built a reputation as the first choice in providing pool financing solutions. For more information, visit lyonfinancial.net or call (877) 754-5966 today.