Working to increase pool safety is a crucial part of owning a backyard pool (see Parts 1, 2 & 3). Here are some other tips for increasing the level of safety in and around your pool area.
Provide Adequate Lighting
If you choose to keep your pool open at night, it's important to make sure that you include plenty of bright pool lighting. This will help your guests to avoid slipping, tripping, or bumping into anything in the dark. Adequate lighting will also allow the pool watcher clear visibility of the pool area for proper supervision.
Lighting should include enough lights to fully illuminate pathways, the entire deck or patio, and, most importantly the entire pool. For the highest degree of safety make sure to install not just external but preferably also internal pool lights. These can be either halogen, incandescent, or LED lights.
If you choose to hang strands of lights above the pool area for accent lighting, make sure that they're not extending over the pool itself. You don't want them to accidentally fall into the pool and pose a risk of electric shock.
Keep Glass Away from the Pool Area
Make sure to only allow the use of cups that won't shatter in or near the pool. Glass in or around the pool can be a real headache to clean up. If any small pieces are missed, they could cause painful injuries to your guests who may accidentally step on one.
Consider Only Allowing Transparent Pool Floats
If you have a large group of children coming over for a pool party, you may want to consider only allowing them to use transparent pool floats. That way you the designated pool watcher will be able to see everyone in the pool more clearly. There have been instances where someone is accidentally trapped under a pool float. If the pool floats are transparent, then it would be easier to see if someone were to get stuck underneath one of them.
Add a Pool Safety Cover
If you choose for whatever reason not to add a four-sided enclosure around your pool or if you just want an extra measure of security, you could get a pool safety cover. These are different from regular pool covers in that they are designed in such a way that they can be tightly secured to discourage entry into your pool. A regular pool cover should not be relied upon as a safety feature as they can be lifted up from the side. If you do use a pool safety cover, choose one that anchors to your pool deck.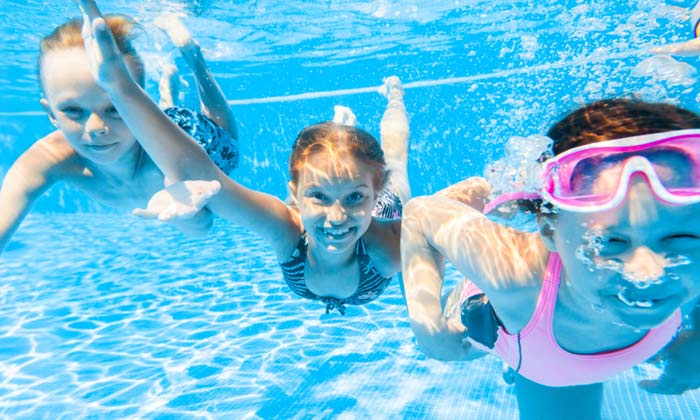 Install a Pool Alarm
Another piece of equipment which pool owners purchase for additional pool safety is a pool alarm. When the alarm is activated it can emit a loud noise to alert you to any unauthorized entry into the pool area.
As a pool owner, taking the steps described in this series can help you to have peace of mind when you invite guests over to enjoy spending time with you in your backyard pool. Providing your guests with a safe environment will hopefully help everyone to have an accident-free, happy swimming season.
Read More About Pools
• How To Launch a Labor Day Party To Remember!
• Eco-Friendly Pools: Plunge Into a Refreshing Backyard Pond!
Lyon Financial
Since 1979 Lyon Financial has made the backyard resort dream come true for over 400,000 families across the U.S. Through our solid relationships with more than 3,000 pool contractors and our continued commitment to putting our clients first, we have built a reputation as the first choice in providing pool financing solutions. For more information, visit lyonfinancial.net or call (877) 754-5966 today.