From the origin of your lumber to your local lumber supplier and then to your job site, your decking lumber goes through a lot. Every time it's moved or handled, you can expect each decking board to accrue added dirt, grime, and moisture. We've already discussed why sanding should be done after installation, and not before. But there are a couple other steps you will need to take, both before and after installation.
Time Needed To Acclimate
When you plan your job, you need to allow for a waiting period between whenever your decking lumber arrives on your job site and when you plan to cut and install the lumber. Why? It needs time to acclimate to the moisture content in the local environment. Depending on where your lumber is coming from and the timeframe involved, your decking boards may require only two or three days to acclimate — or up to a month! Rushing the process will only lead to frustration with decking boards that crack, buckle, or simply refuse to lay flat. Of course, even properly acclimated boards will move as the environmental moisture levels shift; all wood does that. Especially with long, wide boards, you will see some bending and bowing; however, deck installation tools such as the Hardwood Wrench can help you overcome such obstacles. With the proper acclimatization period figured in, you can ensure that the deck you build will offer stability for many, many years.
Products Needed To Beautify
While avoiding rough spots and buckling is important, so is eliminating ground-in dirt, water stains, and mineral deposits. After all, the appearance is what draws many to tropical decking, and it's also usually the first thing people notice about a deck. The most effective way to improve your installed deck is to use a product designed to clean and brighten its appearance. A deck-cleaning product incorporates a mild abrasive with the cleaner that will scour the surfaces of the boards, removing any ground-in, baked-on dirt and gunk that even pressure washers would leave behind. After the cleaning step, you'll need to apply a deck-brightening product. Typical brighteners include some kind of acid that will bleach the deck and lighten it while removing any graying that has occurred from exposure to UV rays. (Cheaper brightening products use bleach, while better products use citric acid, which is much kinder to the wood — and the environment.)
When building a new deck, you may be able to avoid the brightening step and move onto oil. We recommend waiting a few days after the cleaning step and evaluate the appearance of the boards. Since the brightener will help blend color variation, you can determine whether your freshly installed decking boards require that kind of treatment. If not, you will want to let your customer know that applying brighteners every few years will allow their new deck to keep looking fresh.
Read the Series
• Guide to Decking Lumber: Where It All Begins
• Guide to Decking Lumber: When It Gets to Us
• Guide to Decking Lumber: What It Needs at the Jobsite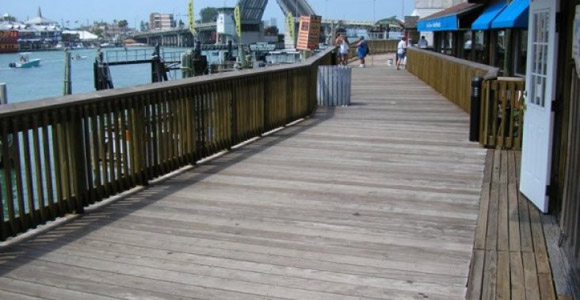 J. Gibson McIlvain Company
Since 1798, when Hugh McIlvain established a lumber business near Philadelphia, the McIlvain family has been immersed in the premium import and domestic lumber industry. With its headquarters located just outside of Baltimore, the J. Gibson McIlvain Company (www.mcilvain.com) is one of the largest U.S. importers of exotic woods.
As an active supporter of sustainable lumber practices, the J. Gibson McIlvain Company has provided fine lumber for notable projects throughout the world, including the White House, Capitol building, Supreme Court, and the Smithsonian museums.
Contact a sales representative at J. Gibson McIlvain today by calling toll free (800) 638-9100.