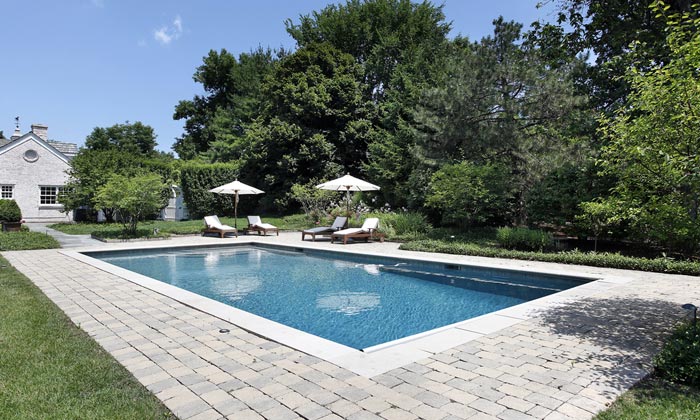 When it comes to heating your pool without going over your budget (see Part 1 & Part 2), solar heating methods are the ultimate way to save. Other than the modest cost of buying and installing these handy sun-powered heating devices, you won't need to spend much additional money to use them to warm up and retain heat in your pool's water. If you're hoping to drastically cut your pool heating costs, you should definitely consider adding these solar heating alternatives to your backyard oasis!
Add a Liquid Solar Cover for an Inexpensive, Hassle-Free Way to Cut Down on Evaporation
A liquid solar pool cover is different from every other kind of pool cover out there on the market today. These ingenious covers are actually a thin layer of chemical that rests on top of the pool's surface. You can't see or feel it, but it works to prevent water from evaporating out of the pool. It will also work to stop your pool from losing heat as quickly as it normally would. This extra heat retention, as well as the ability to keep this non-toxic, Eco-friendly chemical barrier on the pool's surface while you swim, makes liquid solar covers an attractive choice for reducing your pool heating costs.
Include Solar Rings for Even More Effective Heat Retention in Your Pool Water
A liquid cover is fairly good at helping to keep your pool warm, but it's not as effective as solar rings. Generating a maximum of 21,000 BTUs of heat daily, solar rings are typically made of a double layer of UV resistant vinyl. They come in a variety of different designs. These circular-shaped discs can be thrown all across the surface of your pool. They work to help retain heat in the water. They're fairly inexpensive and it's a breeze to toss them across the top of your pool's surface when you get out of the water.
If you choose to go with this heating option, be sure to get enough of the solar rings to cover the surface of your pool for maximum effectiveness. They'll float on the surface of the water and soak in the sun's powerful rays to help heat the water inside your pool. Solar rings also work to help prevent water evaporation which leads to cooling.
Some solar rings come with magnets built right into them. These magnets will connect the solar rings to one another for more complete coverage of the pool's surface.
Solar rings are pretty effective when it comes to helping you retain heat in your pool, but even better than rings is a solar cover that blankets the entire surface of your pool. In our next installment of this series, we'll take a look at the benefits of solar pool covers and then compare and contrast them to the benefits of solar rings and liquid solar covers.
If you're a pool owner, solar power is something you should definitely look into when it comes to keeping the temperature of your pool water warm without having to overspend on monthly heating costs.
Read More About Pools
• Why You Should Add Pool Construction to Your Fall To-Do List!
• Your Off-Season Spa: Outdoor Features for Cooler Weather
Lyon Financial
Since 1979 Lyon Financial has made the backyard resort dream come true for over 400,000 families across the U.S. Through our solid relationships with more than 3,000 pool contractors and our continued commitment to putting our clients first, we have built a reputation as the first choice in providing pool financing solutions. For more information, visit lyonfinancial.net or call (877) 754-5966 today.