Your pool should be a place of refreshment and relaxation for you, your family, and your guests. The last thing you want to happen is for yourself or someone else to get sick after spending time in your backyard oasis.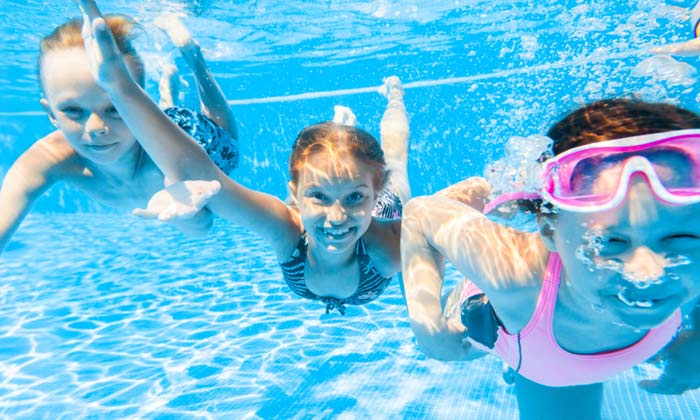 How to Enjoy the Pool Without Getting Sick This Summer
So how do you keep those nasty germs from turning your pool into a petri dish? Thankfully, there are some key steps you can take to help keep everyone happy and healthy in your pool this summer. These steps include exercising sanitary behavior, common courtesy, and vigilant pool maintenance.
Make Sure You and Your Guests Shower Before Entering the Pool
As gross as it sounds, many people in the United States will jump right into a pool without showering first. This is true even if they've just finished playing, exercising, or working in the hot sun. That means they bring the dirt, grime, and perspiration on their skin and products in their hair right into your pool water, turning it into a germ factory. Those germs may cause a variety of problems for swimmers, such as eye or skin irritation, or even sickness and infection.
That's why it makes sense to have a strict pool rule for your family and guests to always shower before getting into the pool. Installing an outdoor shower or cabana with a shower on your patio can help make before-swim showers more convenient. Many guests, especially kids, will try to get away with a quick duck under the showerhead. This is better than nothing, but not enough to get rid of the germs. That's why before-swim showers should last for at least a full minute. After swim showers with soap and thorough scrubbing are also important. They can help get rid of any contaminants a swimmer might have managed to pick up in the water.
Lay Down the Law About No Using the Pool as a Latrine!
Some swimmers, especially kids, don't think it's any big deal to urinate in the pool. They just assume that the chemicals in the water will kill the germs. In reality, human waste can lower the pool chemicals' germ-fighting capabilities. Defecating in a pool is even worse! It can release Giardia and Crypto parasites that cause fatigue, diarrhea, bloating, and cramps.
Don't Allow Anyone to Swim if They've Recently Had Diarrhea
If you've had diarrhea, it's a really bad idea to get into the pool. Yet that's what all too many people do, not realizing they could inadvertently contaminate the water. Even if they try to clean off thoroughly, that fecal matter can still get into the pool, spreading harmful germs in the water.
Some infection-causing parasites, like Cryptosporidium, cause diarrhea. If a person has an infection caused by this parasite, they can keep shedding that parasite as long as 14 days after their last diarrhea episode. This bug is strong enough to stay in pool water for ten days even if the water is properly chlorinated! So please, for the sake of everyone's health, stay away from the pool after you've had a stomach illness that causes loose stools!
In our next article in this series, we'll look at some more pool etiquette that can help keep you and your guests from getting sick in the pool.
Read More About Pools
• Top Pool Maintenance Mistakes
• The Right Rules of Sunscreen
Lyon Financial
Since 1979 Lyon Financial has made the backyard resort dream come true for over 400,000 families across the U.S. Through our solid relationships with more than 3,000 pool contractors and our continued commitment to putting our clients first, we have built a reputation as the first choice in providing pool financing solutions. For more information, visit lyonfinancial.net or call (877) 754-5966 today.