As you design and imagine your new backyard swimming pool, it's easy — and, let's face it, a lot of fun! — to focus on the visual details. Decisions surrounding the shape, size, and finish of your pool along with decking options, surrounding landscaping, and added structures offer so much potential, that the possibilities can easily have your head spinning! But whatever you choose, there's something much more significant to consider: safety. After all, if you lose someone you love in a drowning accident, you won't care about any of those other things. So as you plan for your pool, be sure to prioritize what — really, who — is most important.
Assign Lifeguard Duty
You don't have to go out and hire a lifeguard, of course, but the idea here is to assign someone to act as "lifeguard" for each group pool time. This person should do exactly what you'd expect a lifeguard to do: remain within view of the pool at all times, conduct periodic headcounts, and avoid any distractions. It's probably best to assign lifeguard duty an hour or so at a time, so each responsible, active adult takes a turn but also gets to enjoy some swim and social time, too.
The concept of having an assigned lifeguard is like having a designated driver; anyone can do it, but it's still important to have someone particularly assigned to the role for a particular event. Most deaths by drowning occur with multiple adults present, making it easy for each one to feel a sense of safety because others are around. Simply being present isn't enough; because drowning is a silent killer, it's important for at least one person to be focused on looking out for it.
One way to help ensure that your lifeguard is prepared for duty and will give full attention to the task at hand is to make sure towels, sunscreen, and other items are already within easy reach before swim time begins.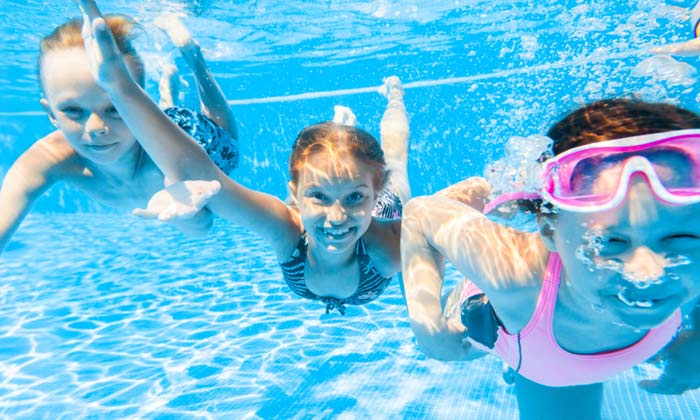 Insist on Swimming Lessons
According to findings of the American Academy of Pediatrics, swimming lessons can greatly reduce the risk of drowning — to the tune of 88%! The AAP even recommends that formal swimming lessons begin at age 1. Strong swimmers are obviously less likely to risk drowning, but not just because they know how to swim; they also have a greater respect for the water and the dangers that it presents.
When children learn how to swim early, they'll also be more mindful about the risks associated with drowning, making them added assistants to the adult assigned lifeguard duty.
A safety fence and CPR skills are added recommended tiers in the drowning-prevention plan, and we'll take a more detailed look at what those things should mean in our next post.
Read More About Pools
• Indoor Pools: The Answer to How to Swim in a Snowstorm
• How to Throw the Best Outdoor Parties for Dads and Grads
Lyon Financial
Since 1979 Lyon Financial has made the backyard resort dream come true for over 400,000 families across the U.S. Through our solid relationships with more than 3,000 pool contractors and our continued commitment to putting our clients first, we have built a reputation as the first choice in providing pool financing solutions. For more information, visit lyonfinancial.net or call (877) 754-5966 today.