Here's the thing about inflatables: they're also, well, deflatable. While that can be a bonus when it comes to storing pool toys off-season, it can also create a potential hazard. While floating toys should never, ever replace safety devices such as highly recommended U.S. Coast Guard-approved PFDs and parental supervision for young children and other non-swimmers, the inflatable version of pool toys can pose hazards that non-inflatable/non-deflatable ones do not. If an inflatable item becomes punctured or slowly loses air, it can quickly cause trouble. But saying no to inflatables doesn't have to mean you don't have any fun pool toys! Check out some of these non-inflatable options that can be used by a variety of ages.
Floating Animal Toys
Small Pool Petz range from this 40-inch-long alligator or 34-inch-long narwhal, available from Target stores. Buoyancy for both is promoted thanks to lightweight, fluffy beans encased in soft, durable, quick-drying mesh fabric. You won't have to blow these cuties up or worry about them losing air. And since they're not oversized, they'll more easily allow you to have a clear line of sight to make sure your favorite animal lovers are still safely enjoying your swimming pool.
Mesh Pool Floats
The kid-sized Kai Water Hammock is one of 10 non-inflatable floating options available from Pottery Barn Kids.  Like the Kai Noodle Pool Float and Kai Infinity Pool Float, the water hammock offers cool comfort thanks to the soft, breathable mesh fabric that surrounds the polystyrene beads. The mold- and mildew-resistant fabric resists fading and has been sewn by hand. Each of the floats in the Kai line come in 3 color options: Red, Aqua, and Pacific Blue.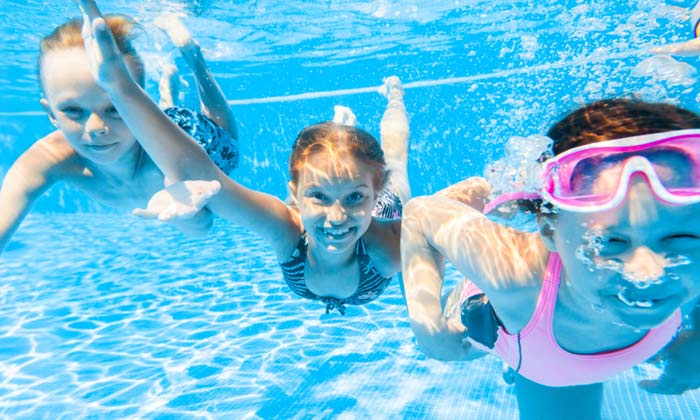 Resort-Level Lounges
If you're looking for non-inflatable lounging options appropriate for family and friends of all shapes and sizes, you might want to check out some of the options exclusively made for Frontgate, such as this Resort Pool Float which comes in many color options. This body float is crafted from closed-cell foam that offers exceptional buoyancy while remaining lightweight and durable, able to support 350 pounds. Only 2 inches thick, this flexible foam float is coated in heat-processed PVC vinyl coating that resists punctures and tears as well as the effects of sun, salt water, and chlorine. This float can be paired with a coordinating mesh cover.
Other options from Frontgate include the Lana Floating Seat, the Lazy Day Body Float, and the World's Finest XL Pool Chaise. Each of these items boasts extreme comfort and buoyancy as well as durability.
Read More About Pools
• An Attitude of Gratitude: For This We Are Truly Thankful
• 2021's Top Pool Design Trends
Lyon Financial
Since 1979 Lyon Financial has made the backyard resort dream come true for over 400,000 families across the U.S. Through our solid relationships with more than 3,000 pool contractors and our continued commitment to putting our clients first, we have built a reputation as the first choice in providing pool financing solutions. For more information, visit lyonfinancial.net or call (877) 754-5966 today.