To a great extent, when it comes to lumber, you do get what you pay for. If you want top-quality boards, you can expect to pay a premium for them. However, there is one way you can get around that rule a little bit: reconsider sizes. We've already looked at how the U.S. standards are different from the rest of the world's when it comes to issues like thickness and short boards. Now we'll look at another issue related to board length: odd-length decking. Especially as it relates to Ipe, the premier tropical decking species, considering odd-length decking can save you and your customers quite a chunk of change.
U.S. Norms vs. Global Realities
There's a one-word explanation for the U.S. preference for buying solely even-length decking: tradition. No, we don't have any more of an in-depth explanation than that. When we import tropical decking, once upon a time, we accepted only boards that met that preference. However, we realized that by doing so, we greatly limited our buying power. In fact, many mills actually refuse to do business with those who won't accept odd-length decking boards. Even those mills that are willing to meet such conditions have to greatly limit the volume of even-length boards they're willing to provide. And we get their frustration: there's absolutely nothing wrong with odd-length boards.
Seeing it from a Mill's Perspective
If a mill shipped out only even-length boards, that would mean cutting down odd-length boards to make them into even-length boards. Especially when it comes to premium species such as Ipe and Cumaru, you can see how this scenario is highly wasteful. The reality is that most of the time, if we get the even-length boards, the odd-length boards go to another country. But even separating them takes extra time and labor. So, in essence, buying even-length boards ends up costing more than purchasing a shipment of mixed lengths.
Our Take on the Situation
Even though J. Gibson McIlvain currently accepts shipments that contain both even and odd-length decking boards, if our customers request only even-length boards, we have to absorb the extra time and labor to lop a foot of great material off any odd-length boards. That cost gets transferred to you as the customer. In essence, you'll end up paying more for your 8-foot boards than you would for the same boards before they were chopped down from their original length of 9 feet.
So here's where the rubber meets the road: you could follow norms and make sure your deck is 16 feet wide. Or you could pay a little less and end up with a 17-foot deck instead. Which choice makes more sense to you? There is no dilemma, in our opinion — in case you were wondering.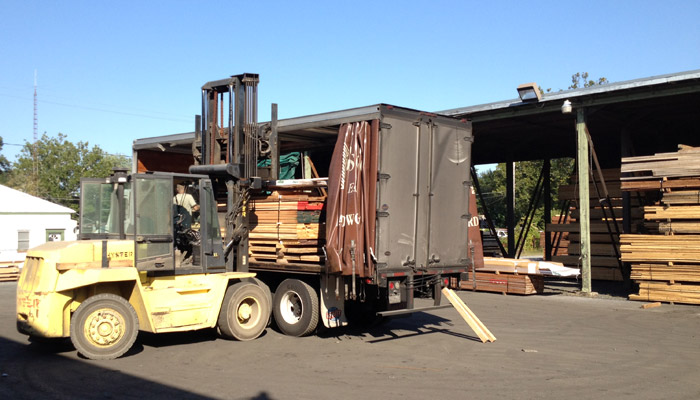 Read the Series
• Rethinking Standard Sizes for Lumber, Part 1
• Rethinking Standard Sizes for Lumber, Part 2
• Rethinking Standard Sizes for Lumber, Part 3
• Rethinking Standard Sizes for Lumber, Part 4
J. Gibson McIlvain Company
Since 1798, when Hugh McIlvain established a lumber business near Philadelphia, the McIlvain family has been immersed in the premium import and domestic lumber industry. With its headquarters located just outside of Baltimore, the J. Gibson McIlvain Company (www.mcilvain.com) is one of the largest U.S. importers of exotic woods.
As an active supporter of sustainable lumber practices, the J. Gibson McIlvain Company has provided fine lumber for notable projects throughout the world, including the White House, Capitol building, Supreme Court, and the Smithsonian museums.
Contact a sales representative at J. Gibson McIlvain today by calling toll free (800) 638-9100.