Children quickly outgrow many things as they grow up: their clothes, their toys, their parents' laps, and even their bedroom furniture. Not only do their legs suddenly dangle off the edge of their bed, but their interests change too, calling for new room decorations and designs.
Children's rooms undergo many makeovers throughout childhood and the following teen years. Little kids adore fantasy rooms where their imaginations can run wild. Then the pirate designs become less cool overnight and princesses are suddenly too "babyish." And during their teen years, open space for their friends and enough room for all their textbooks become more important. As your children's rooms morph and grow, The Bedroom Source's Maxtrix furniture continues to provide the best bedroom furniture in both quality and ingenuity.
In planning your child's bedroom, start with a basic bed in your choice of a natural stain, white, or chestnut. Then, get creative! Add a princess tower and top tent so your little girl can have a real castle to rule. Little boys will love the attachable slide and ladder that make bedtime not so bad after all. An under-the-bed curtain for raised beds creates a fun playhouse to entertain them once they wake up.
For siblings, sturdy bolts, guardrails, and leg extensions create the safe, space-efficient solution of bunk beds. These bunk beds can be organized in all sorts of ways to best fit the shape of your children's room. All beds can be personalized with colorful pillows, mattress covers, and over the rail pouches to make them fit your child's personality.
When the tents and slides are outgrown, they can easily be removed or even replaced with other options such as a canopy or staircase. The possibilities for customization are endless, from the practical storage drawers and trundle beds, to fun curtains and turrets, to details such as bed end designs and bolsters.
Leg extensions raise beds to create space underneath for a bookshelf, providing more storage space, or even a desk for a cozy study corner. And when your teenagers begin collecting more jeans than their closets can hold, Maxtrix offers dressers in colors similar to the bed frames they already have.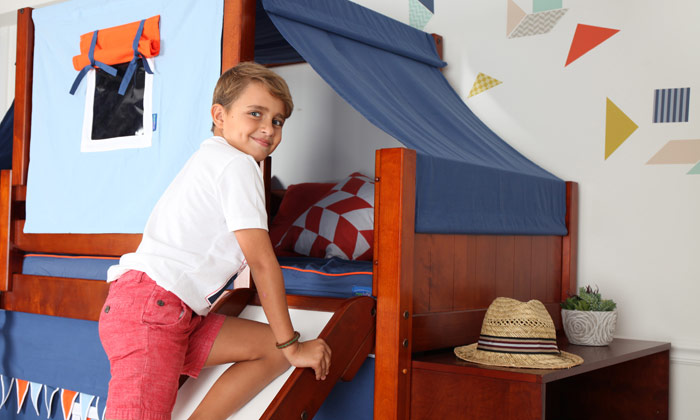 Not only does Maxtrix offer a versatile bed frame, but it also provides a full bedroom system — complete with mirrors, nightstands, and desks. Maxtrix is designed with safety in mind, meeting both U.S and European safety standards, and coming with a 5-year guarantee for both the beds and bed parts.
With such flexible and adaptable furniture, one bed can last children for years. Maxtrix offers safe and fun furniture with warranties that ensure your satisfaction as a parent. Choose your favorite bed from Maxtrix's wide selection and watch it grow up with your child.
The Bedroom Source
Located near the Roosevelt Field Mall on Long Island, NY, The Bedroom Source is your source for the best collection of children's and teen bedroom furniture. From flexibly configurable Maxtrix furniture to fashionable Berg collections, The Bedroom Source offers high end furniture and professional design assistance to create the bedroom of your child's dreams.
Contact the friendly staff at The Bedroom Source by calling (516) 248-0600 or by visiting www.BedroomSource.com. We professionally assemble everything we sell. We deliver to Long Island, the 5 Boroughs of New York City, Rockland, southern Connecticut, and northern New Jersey.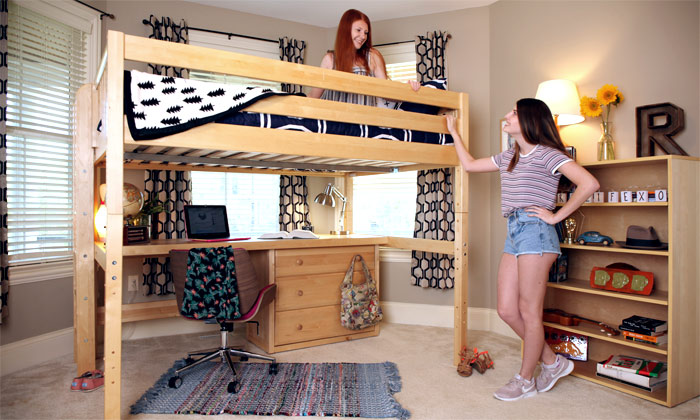 What People Are Saying About The Bedroom Source:
"What a place. 5 Stars! Truly the go-to-source for all of your children's bedroom furniture needs. Paul [one of the owners] and staff were super friendly and totally low pressure. We had spent the past few weekends looking to match our twin's existing bedroom set from when they were infants. Now 6 years old, they had outgrown their converted toddler beds. Hoping to find something similar in color, we looked, looked and looked. Nothing even came close. However, at the Bedroom Source, we discovered that we could order a custom color, and that is exactly what we did. From purchase to that white glove delivery service. TRULY A 5 STAR EXPERIENCE! Thank you, Paul!"
"We bought a Maxtrix white day bed for our oldest daughter and then now a few years later, I am purchasing the additional pieces to make a bunk bed with a trundle. Funny enough I purchased the piece from the same person 4 years ago! We are very excited and the customer service was excellent. I always recommend Bedroom Source to all of my friends due to the quality and there are so many options!"
"Very happy with my shopping experience at the bedroom source. They had exactly what I was looking for."
"As soon as we walked in, the service guy, Paul, introduced himself and said if we had any questions to feel free and ask and then left us alone! Compared to Bob's Discount store it was a huge difference in customer service. Although I didn't buy anything at the time, I loved the details in the furniture and how bright and family friendly the store appeared to be. Will definitely shop there again."
"My wife and I were in the market for bunkbeds. A quick Google search based on reviews and selection, and we knew that Bedroom Source was the place to go. We found exactly what we were looking for. We had gone there three time until we finally decided what was best for our girls. Each visit they took the time explaining the differences without any pressure to buy. And when we did, it was hassle free. Overall, it was a pleasant experience and we will buy from them again."
Maxtrix® is a registered trademark of Maxwood Furniture.