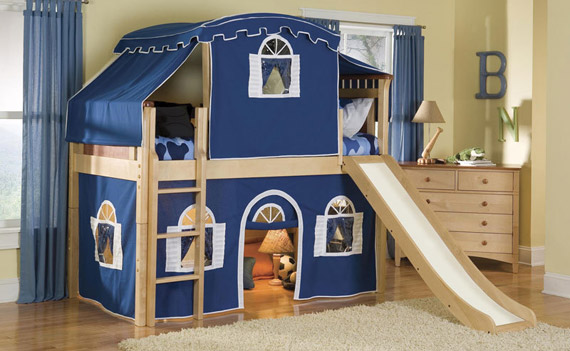 Here at The Bedroom Source, we love offering our customers top-quality furnishings along with plenty of options to allow you to tailor your child's bedroom to your specific style and needs. Coordinating with any of our Contemporary and Cottage lines, the Bennington Collection is one example of the kind of custom, build-your-own-bed idea that's sure to have something that will work with your dreams for your child's bedroom.
Bennington Loft Bed Options
Whether you want to make room for a play space for a younger child, a study area for an older child, or extra storage for any age, the Bennington Loft Bed is a great idea. All Bennington beds include sturdy Slat Packs and are available in your choice of three finishes: Cherry, Espresso, and White. Bennington Loft Beds are available in either Twin or Full Sizes and include removable Loft Legs that allow you the option of converting the bed into a standard-height bed, if you so desire.
The Bennington Low Loft with Slide offers these fun add-on options:
• Bottom Curtain
• Castle Tower
• Top Tent (available only for Twin Size)
• Front Staircase
Bennington Low Lofts are available in either a Twin or Full Size loft bed over your choice of either a Dresser and a Bookcase or a Dresser and two End Bookcases. A Space-Saver Loft provides additional options, with either a 4-Drawer Chest and Desk or two Chests. The Optional Side Staircase can include shelf storage, as well.
Bennington Bunk Bed
The Bennington Bunk Bed is available in three basic configurations:
• Twin over Twin
• Twin over Full
• Full over Full
Regardless of which size you choose, the ladder can be set up on either the left or the right side. With the Twin-over-Full option, the ladder attaches flush to the bed; however, with the other two options, it adds 23" to the depth. Bennington Bunk Beds can be conveniently separated into two standalone beds, if you desire to rearrange your children's bedroom.
Beneath the bottom bunk, you have the following three storage options:
• Cabinet with 3 Drawers
• Storage Trundle
• 2 Drawers
Like the Bennington Loft with Slide, you can opt for a staircase instead of a ladder; in that case, however, the only under-bed option available is a Single Drawer.
Bennington Single Beds
Within the Bennington Collection, single beds are also available in the following sizes: Twin, Twin Extra Long, Full, and Queen. Any of those sizes can be customized to include a Universal Low Foot Rail in place of a high footboard to create a "platform" design. The Bennington Bed is also available as only a headboard, to be used with any metal bed frame, box spring, and low-profile mattress. Twin and Full Size Beds can have the following under-bed additions:
• Storage Trundle
• Trundle Bed
• 3-Drawer Cabinet
• 2 Drawers
From the Bedroom Source blog
The Bedroom Source
Located near the Roosevelt Field Mall on Long Island, NY, The Bedroom Source is your source for the best collection of children's and teen bedroom furniture. From flexibly configurable Maxtrix furniture to fashionable Berg collections, The Bedroom Source offers high end furniture and professional design assistance to create the bedroom of your child's dreams.
Contact the friendly staff at The Bedroom Source by calling (516) 248-0600 or by visiting www.BedroomSource.com. We're a local family owned mom & pop store. When you shop with us, you're dealing directly with the owners. We professionally assemble everything we sell. We deliver to Long Island, the 5 Boroughs of New York City, Rockland, southern Connecticut, and northern New Jersey.