Shopping for furniture is stressful, no doubt about it. There are a plethora of options from which to select, including a variety of styles, materials, and colors. Do yourself a favor and avoid any store that won't help you turn your house into the home of your dreams if you can help it.
However, there is one furniture store located in NY's Westchester County that can do all that and more! That store is Country Willow.
Country Willow's 30,000 square foot showroom features expertly designed furniture collections spanning both traditional and contemporary home decor. The company has grown from its humble beginnings as a single shop in Katonah, NY selling high-end country-inspired home furnishings to now offering a wide selection of other design eras and aesthetics, such as Urban Modern and Contemporary-Luxe.
The Loft at CW, Country Willow's latest section, is where you'll find these newer, more modern designs. Next door to the main Country Willow storefront, this 1,750-square-foot area stocks a wide variety of trendy home furnishings and decor. You'll be drawn to The Loft's showroom, which features many carefully curated collections with a contemporary vision, pure style, and take-home-ready objects, if you're looking for more distinctive decor for your loft, apartment, or condo.
CW Kids & Baby is an in-showroom children's furniture boutique featuring collections carefully picked to reflect Country Willow's eye for design, high standards of quality, and one-of-a-kind selections. Unlike conventional youth furniture, the bunk beds, lofts, and other pieces in CW Kids & Baby's Maxtrix collection are designed to be able to be reconfigured as your children become older.
Country Willow's reputation as the top furniture store in Westchester County is firmly established by the best-selling, salvaged & recycled wood farm tables and country-style sets that can be found throughout the store's showrooms.
If you aren't certain what styles or types of furniture you need for your home, Country Willow offers a large staff of designers, each with different fascinating backgrounds. They'll be glad to provide you with free expert design guidance and even help with a free in-home design consultation and room planning.
Country Willow is a one-of-a-kind home furniture store that caters to customers of all walks of life and all budgets. You will always find something fresh throughout their showrooms, because they are regularly featuring new pieces of furniture and decor. Visit Country Willow at 230 Route 117 Bypass Rd in Bedford Hills, New York to find out why it has been named Westchester Magazine's Best Furniture and Accessory Store for the past 13 years running. Visit their website at CountryWillow.com.
What People Are Saying About Country Willow
"The furniture in this store is absolutely wonderful. Took quite sometime to get our piece, but it was worth the wait. After a month the wood swelled so the doors didn't quite close flush, so they sent one of their repairmen to us; he was fantastic! Fixed our sideboard perfectly. We would get more furniture from them just because of the repairman – knowing they have experts to come fix anything that goes wrong is great peace of mind!"
"What a beautiful store. My designer was absolutely wonderful to work with. Made choosing a new leather recliner so easy and stress free. I'll do all my furniture shopping here."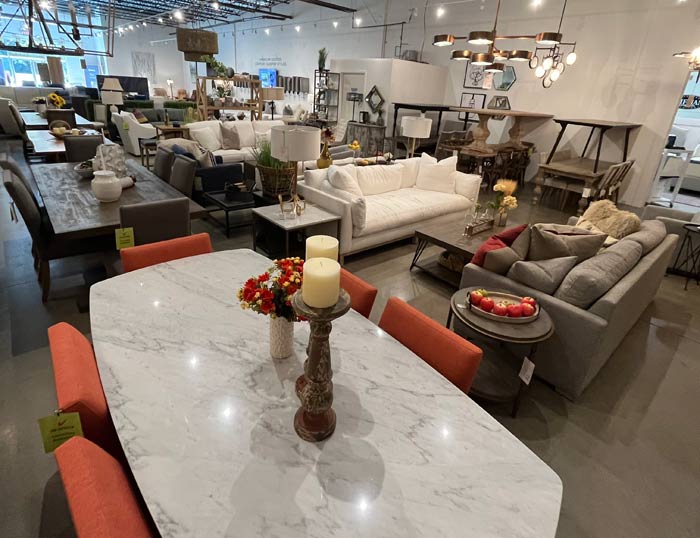 "This store is amazing! What a huge selection of quality furniture! I was in the market for a new sectional and went to a few local places near me without much luck in finding what I needed. A lady greeted me with a smile, listened to what I was looking for, and showed me all the possible sectionals that fit my needs and budget. It took me a bit of time to finalize my selection, but she was super patient and so helpful. She found a gorgeous sectional that will hold up to my three boys and our pets in a durable, beautiful fabric that I picked out. I wanted something super comfortable but also polished and not sloppy-looking. She found the perfect match for my family."