While vinyl pool liners have some definite benefits (we discussed some of them in a previous post), the main one is the lower price, initially. If that's your reason for desiring a vinyl pool liner, it's an understandable one! At the same time, though, you don't want to be under any delusions about how long you can expect the liner to last and what you can expect to pay for a new liner. The best decision is always a well-informed one.
Unfortunately, some new pool owners are under the false impression that their vinyl pool liner will last over 20 years — or that, with a warranty, they will be fully replaced. However, that is far from accurate. Do some pool liners come with a 25-year warranty? Yes. However, it doesn't mean what you may be led to think it means.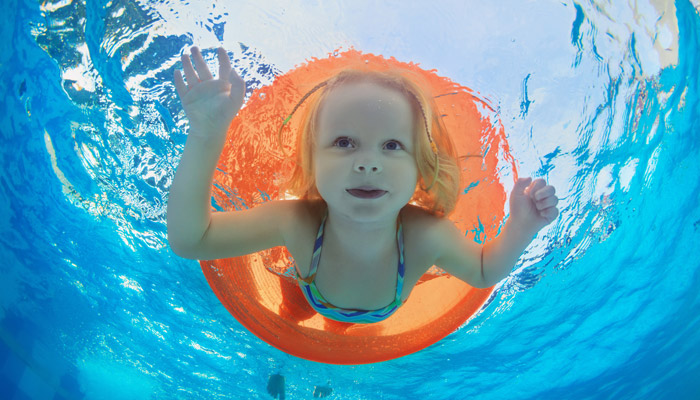 Pool Liner Warranties
The type of warranty that often accompanies pool liners is what's called a "prorated warranty." That means that the warranty will lose value as time goes on. (Typically, a 25-year prorated liner warranty also comes with a 2- to 5-year full warranty, and the prorating kicks in after that warranty expires.) And keep in mind that it will not cover the cost of labor or filling the pool with water.
Let's take a look at how this might play out. Let's say your new pool liner has a 30-year warranty. After 7 years, the liner's seams separate, and you hope the warranty will mean that the liner will be replaced. Let's say a new liner for your pool would cost $2000. With prorated deductions, the manufacturer will cover 90%, which brings the cost to $1800. Sounds worthwhile, until you consider the $2000 it will cost to have the new liner installed, plus the $1200 you'll pay for water. Now your replacement cost is up to $5000.
Pool Liner Longevity
In reality, you can expect the average in-ground pool liner to last between 5 and 9 years. Sometimes they last longer, but you simply can't count on that. Contrary to what some may think, a thicker (and more expensive) vinyl liner won't necessarily last longer than a thinner one; in fact, it may fail sooner. Some aspects of a liner that will influence its durability include installation and chemicals. With proper installation, consistently well-balanced water chemistry, and careful puncture-free treatment, you should be able to protect your pool liner from premature failure. But there is also a bit of a gamble at play.
Pool Liner Options
If you don't like the idea of having to shell out thousands more dollars within a decade of your initial investment of your pool, then maybe a fiberglass liner is a better choice for you. While initial installation does cost more, fiberglass liners typically last the lifetime of the pool without any major added investment.
Read More About Pools
• Swimwear Tips for Pool Owners
• What's So Great About a Pool? Our Top Ten Reasons!
Lyon Financial
Since 1979 Lyon Financial has made the backyard resort dream come true for over 400,000 families across the U.S. Through our solid relationships with more than 3,000 pool contractors and our continued commitment to putting our clients first, we have built a reputation as the first choice in providing pool financing solutions. For more information, visit lyonfinancial.net or call (877) 754-5966 today.