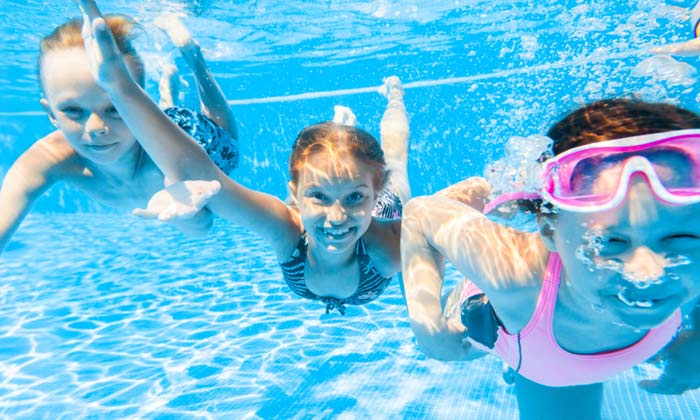 No matter how warm the air is, cold water just isn't cool. Not only does an effectively heated pool increase the comfort level of your pool anytime of year, but it can also extend your swimming season significantly! Not only will you and your tribe — whoever that may be — get to appreciate the benefits of your backyard swimming pool for more weeks out of the year, but you'll also be able to enjoy it more hours out of every day!
Many of today's pool-heating options are highly efficient and economical to run. Some of the top options are heat pumps, gas heaters, and solar pool covers.
Pool Heating Option 1: Heat Pumps
Heat pumps are, hands down, the most energy-efficient pool-heating option out there. Because they don't emit carbon into the earth's atmosphere, they're extremely environmentally friendly. At a third the price of propane heaters and half the price of natural gas heaters, heat pumps are also cost effective.
In case you're wondering how heat pumps actually work, instead of generating heat, they basically use electricity to capture heat. The pool pump circulates the water, allowing it to pass through a filter and heater located inside the heat pump. When the fan inside the heater draws in outside air, that air passes over the evaporator coil, allowing the liquid refrigerant inside that coil to absorb the heat and create a gas. That warm gas, in turn, passes through the compressor, resulting in increased heat — which is then transferred from the gas to your pool's water — which circulates through it before being returned to the pool.
Pool Heating Option 2: Gas Heaters
While not as environmentally friendly or economical as heat pumps, gas heaters provide an alternative heating method that's just as effective. Gas pool heaters can use either propane or natural gas to heat the water. A pump circulates the pool water, drawing it through a filter and heater. Inside the heater, the gas burns in the combustion chamber, where it heats the water that passes through it and back into the pool.
Unlike traditional gas pool heaters, today's high-performance alternatives are both eco-friendly and quiet. Complete with low profiles and electronic ignitions, gas heaters offer on-demand heating for the most significant extension of your swimming pool season!
Pool Heating Option 2: Solar Pool Covers
If you're looking for a budget-friendly swimming pool heating option, solar pool covers are definitely worth considering! Providing you with the ability to harness the sun's heat, solar pool covers are not only inexpensive to purchase, but they are absolutely free to run. Installation is also economical, since you can actually DIY this one! Simply unroll the blanket-like cover along your pool's surface, making sure the bubble side is facing down, toward your swimming pool.
When you install a solar pool cover, you're basically creating an insulated layer of air, trapping the heat that the sun naturally produces on the surface of your swimming pool. The effect is up to a 5-degree increase of the water temperature.
Read More About Pools
• The Top 6 Do's and Don'ts of Pool Maintenance
• Energy Efficient Pools Need Solar Covers and Blankets
Lyon Financial
Since 1979 Lyon Financial has made the backyard resort dream come true for over 400,000 families across the U.S. Through our solid relationships with more than 3,000 pool contractors and our continued commitment to putting our clients first, we have built a reputation as the first choice in providing pool financing solutions. For more information, visit lyonfinancial.net or call (877) 754-5966 today.