Now that you've gained a greater appreciation for the miracle that even remotely color-matched decks truly are, we're ready to let you in on our lumber experts' top four principles to follow in attaining color-matched decking lumber for your upcoming build.
1. Start with an Excellent Dealer
Seriously, if you do this one thing, the rest will just about take care of itself. The kind of dealer we classify as "excellent" will have inside knowledge of each individual pack of lumber, down to its point of origin. That single factor will help weed out regional differences. An excellent dealer will also help steer you in the direction of the remaining three principles we're about to list below.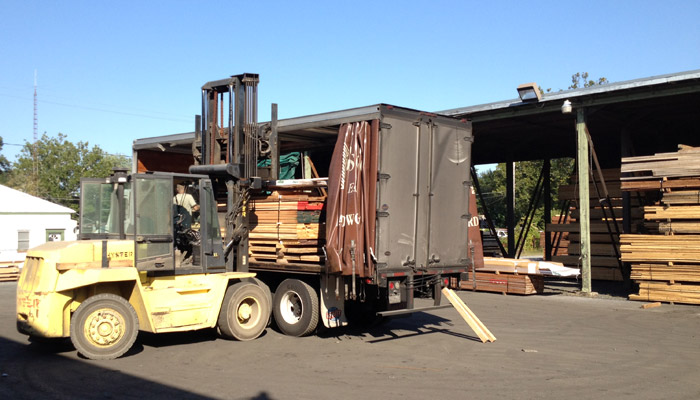 2. Get Past the Grade
We're not saying grade isn't important; what we are saying is that color isn't part of any grading system. Simply purchasing "top grade lumber" does not mean you will have an easier time with color consistency. If you're buying tropical decking, B grade material is pretty much nonexistent — not that it never gets harvested, just that it rarely gets exported.
3. Prepare to Purchase Overage
Sure, you could ask your dealer to get you color-matched lumber. But a decent dealer will explain to you a lot of what we've already been discussing about color-matching lumber; some might humor you by picking through several packs, but you will pay for the extra man hours necessary for such a task. A better choice is to adjust your expectations (something we hope we've already helped you to do) and then plan to purchase at least 20% more than your project will require. The larger your project, the larger the percentage of overage you should plan to buy.
4. Be Patient
You'll need to exercise patience in multiple ways. First, you will need to take time to clean and sand each board and then let your boards mellow out by sitting in the sun. You'll also want to apply a deck oil; the combined effect of those steps will do a lot toward unifying color. After that, you'll want to take time to sort through the boards, rejecting some for certain areas and putting them aside to be used in less noticeable areas or where more similar hues are present. As you sort through the boards, be sure to flip over a board to check the other face; sometimes the difference from one face to another can mean a great deal.
As an organic product, wood is never going to appear as perfectly color-matched as a manufactured product. Once you embrace the variation as part of real lumber's natural beauty, you'll be able to use it to your advantage and wow your customers with your creations!
Read the Series
• Why Color-Matching Lumber Is Nearly Impossible, Part 1
• Why Color-Matching Lumber Is Nearly Impossible, Part 2
• Why Color-Matching Lumber Is Nearly Impossible, Part 3
• Why Color-Matching Lumber Is Nearly Impossible, Part 4
J. Gibson McIlvain Company
Since 1798, when Hugh McIlvain established a lumber business near Philadelphia, the McIlvain family has been immersed in the premium import and domestic lumber industry. With its headquarters located just outside of Baltimore, the J. Gibson McIlvain Company (www.mcilvain.com) is one of the largest U.S. importers of exotic woods.
As an active supporter of sustainable lumber practices, the J. Gibson McIlvain Company has provided fine lumber for notable projects throughout the world, including the White House, Capitol building, Supreme Court, and the Smithsonian museums.
Contact a sales representative at J. Gibson McIlvain today by calling toll free (800) 638-9100.