One of the challenges of working with large timbers is their tendency to crack. At the very beginning of this discussion, a disclaimer is in order. There's really nothing you can do to completely prevent large timbers from cracking. There are, however, some proven strategies that can lessen the number of cracks that develop in these timbers. First, we'll take a look at reasons why your large timbers are prone to developing cracks. Then we'll go over some strategies to try to keep them from excessive cracking.
Reasons Why Large Timbers Crack
Cracks in timbers, also known as "checks," are a naturally occurring phenomenon that won't actually hurt your wood. It's easier to regulate checking in smaller sized lumber. Large 12/4+ sized timbers that include a significant cross section of the log they came from can tend to pose a bit of a challenge when it comes to preventing cracks.
The reason why these cracks develop is that large timbers take much longer to dry out than smaller timbers. This leads to uneven drying from the outside to the inside of the board. As the outer layers dry quickly while the inner layers retain moisture, checking will happen as a matter of course. Denser woods check more often than less dense species. The depth of checks will also vary from species to species. Ipe, which is commonly used in decking projects, tends to incur plenty of checks, but those checks are normally relatively small.
Steps to Help Prevent Large Timbers from Cracking
1. Seal the Ends of Timbers
Sealing the ends of large timbers can help to keep them from cracking. This should be done as soon as possible after the timbers are cut. Because water moves rapidly along wood grain, sealing this area off will be one of the most effective ways to stop significant checking from occurring on large timbers.
2. Allow Time for Proper Acclimation
This point really cannot be stressed enough. In order for wood to perform well, it must be properly acclimated to the environment of its final destination. For effective acclimation, store it in a shady area, up off the ground, using spacers for up to a week or two. Covering it with a tarp is also a good idea.
3. Apply a UV-Inhibiting Sealer
Another way to help prevent checking on large timbers is to apply a UV-Inhibiting sealer to the boards. This sealer can be applied before or right after you install your decking. It can help to keep the sun's harsh UV rays from causing surface checking on your wood.
Some people who want to try to prevent a large timber from cracking will saw a slit, known as a "kerf," into the wood. This method goes all the way back to the practice of ancient Japanese temple builders from as far back as 600 BC. The kerf will help to release pressure from the wood, which can prevent cracks from forming elsewhere. But in order for kerfing to work, it must be done before the wood even starts the drying process. Since most dealers don't have the opportunity to work with timbers that are that fresh, kerfing simply isn't a viable option at most United States lumber yards.
Final Observations
Though you can take all the necessary precautions to try to prevent cracks, a certain amount of checking is bound to take place, especially on your larger timbers. Because it's an organic material, wood will always move over time. Often checking occurs long after installation. When it does happen, don't panic. This is perfectly normal, and won't hurt the structural integrity of your wood. These cracks can actually release tension and leave your wood stronger than ever before. It's the wood's way of shedding itself of excess moisture. Look at it as part of the charm and beauty of working with a natural product.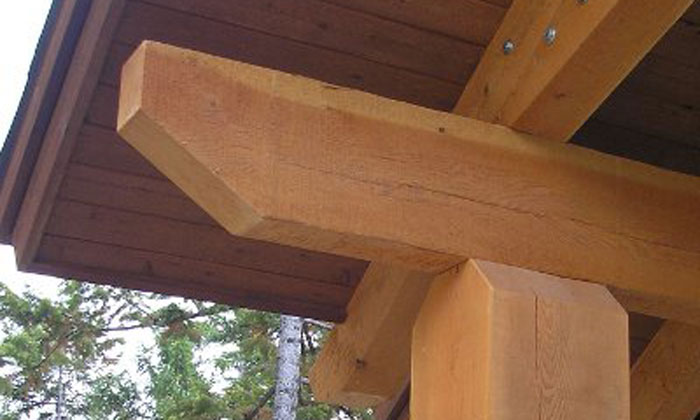 J. Gibson McIlvain Company
As an active supporter of sustainable lumber practices, the J. Gibson McIlvain Company (www.mcilvain.com) has provided fine lumber for notable projects throughout the world, including the White House, celebrity homes, luxury yachts, Capitol building, Supreme Court, and the Smithsonian museums. For more information on J. Gibson McIlvain's lumber products and services, call Monday thru Friday toll free (800) 638-9100 to speak with one of their lumber representatives.