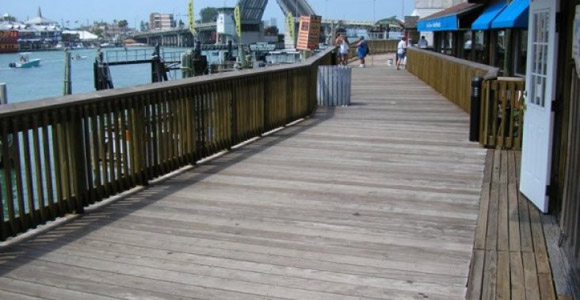 Species like Cumaru, Red Balau, and Jatoba can be excellent choices for decks, but absolutely nothing surpasses the durability of an Ipe deck. Ipe has definitely earned its reputation as the best of the best when it comes to tropical hardwood decking species. Why is this Brazilian hardwood so remarkable? Let's take a look.
Ipe Basics
Ipe, officially Tabebuia Serratifolia, comes from Brazil, where its growing season is limited by an extreme rainy season that prevents harvesting and milling; as a result, North American importers have to purchase all the Ipe for the summer decking season in winter or early spring. Like many other tropical hardwood decking species, Ipe has straight, consistent grain and a gorgeous reddish brown color. One downside of Ipe is that when quartersawn, it will display some areas of raised grain, due to the harder medullary rays; some may see these internal structures as defects to be sanded when, in fact, they are signs of the extreme stability of this species.
Ipe Benefits
A major characteristic that sets Ipe apart from other tropical decking species is its extreme durability. With a lifespan of over 40 years, it's unique in that it will likely outlast your tenure in your home. If you decide to sell your home at some point, you'll find that your Ipe deck will have added value to your home, as well. Another superior characteristic of Ipe is that it is extremely stable, as a result of its almost identical levels of tangential and radial movement. This species' extreme density has earned it the nickname "Ironwood," because like the metal, it is remarkably hard. It is also unusually fire resistant, earning it a class A fire rating just like metal or concrete. Although Ipe lacks a standardized grading system, the Ipe that ends up getting exported is virtually free from defects on at least 3 sides, with either a cathedral or straight grain.
Ipe Business
Ipe buying needs to be strategic. At J. Gibson McIlvain, not only do we carefully place our Ipe orders as early as possible, to ensure our customers the most choices, best quality, and most economical pricing, but we also carefully select the Ipe we purchase based on its location. Since Ipe grows over a vast geographic range, we're very careful to select Ipe from only certain areas, in part to ensure the best possible color matching within the species. When left untreated, Ipe fades and takes on a silvery gray patina, but you can preserve its original rich brown hue by treating it with timber oil, deck cleaner, and deck brightener, all of which we can help you attain. We can also offer you strategies to save money while securing your high-quality Ipe decking, such as by purchasing odd-length boards.
Read the Series
• Wood Decking Species Choices: Ipe
• Wood Decking Species Choices: Cumaru
• Wood Decking Species Choices: Red Balau
• Wood Decking Species Choices: Jatoba
J. Gibson McIlvain Company
Since 1798, when Hugh McIlvain established a lumber business near Philadelphia, the McIlvain family has been immersed in the premium import and domestic lumber industry. With its headquarters located just outside of Baltimore, the J. Gibson McIlvain Company (www.mcilvain.com) is one of the largest U.S. importers of exotic woods.
As an active supporter of sustainable lumber practices, the J. Gibson McIlvain Company has provided fine lumber for notable projects throughout the world, including the White House, Capitol building, Supreme Court, and the Smithsonian museums.
Contact a sales representative at J. Gibson McIlvain today by calling toll free (800) 638-9100.